Farmhouse Master Bedroom Remodel
A few weeks ago I started tackling our farmhouse master bedroom remodel that was long overdue. I say the word "master" loosely here because it's really just the bedroom that we sleep in, there's no walk-in closet or attached bathroom. Anyway, I started documenting the process on my instagram. (I saved the stories in my highlights if you want to check them out!) There are a few cosmetic things I'm still finishing up, but in the meantime, while I'm wrapping up those projects, I started thinking about how I'm going to decorate.
This part really stumped me. Who knew finding decorations was so hard? Probably everyone but me. I decided to create a mood board to help me visualize what I'm looking for and to find pieces at the same time. Honestly, this was a lifesaver. I would still be aimlessly searching online if it wasn't for this. Putting everything on one page really brings the project together.
This also helped me come up with a budget. I had to sit down and think of all of the things that were missing from our room, plus any additional items that I thought would make it feel more cozy. I am setting a certain percent of my reselling sales aside to pay for this remodel so I needed to have the final numbers in front of me.
**I will be doing this remodel in phases to help spread out the costs and because our schedules are pretty packed right now.
Farmhouse Master Bedroom Mood Board Breakdown
To save money and because we can, Michael and I will be DIYing most of the big stuff for the bedroom. I always recommend doing this if possible, it really helps keep the budget down when it's time to work on your own farmhouse master bedroom remodel. Below, I'll breakdown the actual product that I was inspired by as well as link to the DIY project we'll actually do.
Furniture
(1) Farmhouse Bed by Pottery Barn. I had actually found the DIY plans for this bed before I realized that the actual bed was from Pottery Barn. We will be building this bed ourselves using these plans with a few minor changes. I'll document it all when we're ready!
(9) Farmhouse Night Stands by Pottery Barn. Again, I found the plans for a night stand and then realized that the farmhouse bed we were looking at had matching night stands. I'm having Michael build them using these plans.
Windows & Rug
(4) Rugs can be really tricky and quite expensive. We bought this rug at the beginning of the year knowing full well that it wasn't going to be a rug that we would have forever. The quality is meh to say the least. Don't get me wrong, it looks great but close up it's nothing to get excited over. Plus it's very thin. But if you're on a budget and want something to spruce up your room, I would recommend this rug.
(8) Curtains are always my downfall. Why are there so many bad choices on the market? I found this DIY curtain tutorial and I'm leaning towards going this route.
I fell in love with this brass curtain hardware collection from Pottery Barn while searching for curtains. After totaling up everything that I would need, I decided it just wasn't in the budget to buy new curtain hardware. I also felt like I should stick with the black hardware that I already have and just add touches of brass/gold throughout the decor. (BTW I just spray painted a silver curtain rod that I already owned black.) I am going to get these matte black clip rings from Target that are dupes of the Pottery Barn version to get the same feel.
Decor
(2) Fiddle Fig Tree or any other plant that you love. I actually have two fiddle fig trees that I bought from my sister's store, so I will just be moving one to the bedroom when the time comes.
(3) I love hanging a fun mirror for depth, especially in the bedroom. The mirror I have pictured in the mood board offers a unique shape, but really any mirror that suits your personality is great!
(5) The set of four vintage landscape photos are something that I have on order from my sister's store. When they come in I'll add a link!
(6) Adding art to your walls that is sentimental or tells a story is a great way to bring a room together. We already have a set of deer antlers hanging in our bedroom so I decided to just keep them in there. We'll see how it turns out. BTW, I vehemently draw the line at deer heads!
(7) This tree sketch framed art immediately caught my eye! I love the vintage feel. If you know me then you know that I'm not into an overly "farm" feel to my farmhouse. I want there to be a good balance of vintage & modern to bring the whole house together. I feel like this piece does that.
Lighting
I love the look of mounted wall sconce lamps on either side of your bed or couch. It's such a great way to free up space on your night stand or end table. I found these brass plug in sconces at Home Depot but I think they'll be one of the last things that we add since we already have two gold bedside lamps.
We need a new ceiling light fixture in our bedroom too. After spending hours this morning looking for the perfect ceiling fan, Michael told me that he doesn't want a ceiling fan. (I'm rolling my eyes right now!) So when I find one, I'll link it!
Paint
Here's a question, are accent walls outdated? I'm thinking of painting the wall behind our bed this dark blue paint color from Behr. I'm putting two inspiration pictures below, let me know what you think!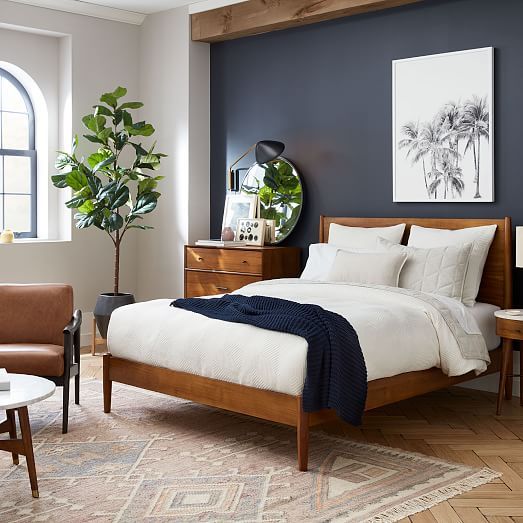 Farmhouse Master Bedroom Remodel Budget
Now let's get down to the farmhouse master bedroom remodel budget. To be honest, I'm the worst at budgeting but it's a new thing I'm really trying my best at! And right now there are a few things, like lumber, I'm going to have to guess on until Michael sits down and figures out the numbers. (I'll break that down on here when he does!) Here is what the budget looks like initially:
Lumber for bed frame & two night stands: I'm budgeting $400 but it could be more or less.
Stain for lumber: I want a french oak color for the furniture. When I find a color I like I'll link it for you. Stain budget: $10
Art/Decor: I'm setting a budget of $200 here. I know I'll move some stuff around and use some art that I already own so I don't need a huge budget. To be honest, it would probably be less but that framed art piece from Magnolia is $134. (And I'll still probably wait to see if it goes on sale!)
Curtain Fabric: $50 is my fabric max. And I'm hoping to not come close to that. The tutorial I shared above calls for a drop cloth which was $12/piece.
Curtain Clip Rings: It's $8.99 for a pack of 7 and I'll need at least two, maybe three depending on how they look. Total $27.
Wall Sconce Lamps: As I mentioned before, I am going to wait on these for a while because they're definitely not a necessity. The one I picked out is $104 and I'll need two. Because I'm not buying them for this part of the remodel, I'm not adding them to the budget. But I wouldn't spend more than $125 for two wall sconces at this time.
Ceiling Lighting: I haven't found anything I love yet but I'm setting this budget at $200. I hope I can find something fabulous for less but we'll see.
Paint: $40 for 1 gallon of paint.
Total: $927
Budget Notes & Tips
Anything not mentioned in the budget, like the rug & plants, is because I already own them or will be repurposing something from another room. I always recommend moving decor or furniture around. It always looks new when it's in a different room! But I will add a final total of everything in the master bedroom when we're done so you know the true cost.
Something else I want to add here: When I first went through the budget, I was well over $1500. But I knew that just wasn't in the cards for me right now. Don't be afraid to do your decorating in phases. As my instagram friend Erin says, "Homes take time."
Also not added to the budget because I completely spaced it until now is the lumber we'll need for the closet shelving. I'll break that down on another post sometime.
Ok, so what am I missing for my farmhouse master bedroom remodel on a budget? And who thinks this is going to go as planned? Comment below and let me know. Make sure you're following me on instagram so you can see this all unfold!
Check out this post on designing a modern vintage bedroom for more inspiration!
Before Pictures (taken in 2018, but it's all I could find because I forgot to take photos!):
Interested in more of our remodeling projects? Check out our backyard chicken coop remodel! Or check out the Moodboard for Rowen's Baby Girl Nursery!
If you love DIY projects and building your own furniture, then you have to see these Modern Farmhouse Shelves that Michael built!
Pin me for later: