The Best Houseplants for Beginners
One of the most satisfying feelings is seeing beautiful houseplants in your home that you haven't killed! I know that taking on a houseplant can seem daunting, but trust me when I tell you it's actually the opposite.
Having live plants in your home creates a sense of calm and peace, and they make great decor.
But the key is to start small. You don't want to start off with a finicky houseplant that you might kill in a week. That is an instant mood killer and may put you off houseplants for life. Your best bet is to start with plants that are hardy and easy to keep alive, even if you forget about them for a bit.
So, are you finally ready to start adding some houseplants to your home?
Let's get into the best houseplants that I would recommend* for beginners.
*What gives me authority on houseplants? I am a recovering black thumb plant owner who has successfully kept dozens of houseplants alive for years. Plus, my sister owns a greenhouse where I help out often so that I am constantly staying up to date on the latest houseplant news.
This post contains affiliate links. If you make a purchase through one of my links, I may earn a small percentage of sales. As always, I only share things that I have tried & loved or that have amazing reviews on this blog. I truly appreciate your support!
The Best Houseplants for Low Light
Snake Plant
Snake plants come in a few different varieties, so it's easy to find one that has the coloring to fit your home. These plants thrive in any light conditions and prefer to be left alone. You only need to water these plants about once a month. If you are using traditional soil then you will water when the soil is completely dry. I have mine in succulent soil so I set a monthly reminder on my calendar to water it. Because these plants are almost impossible to kill, they are one of the best houseplants for beginners.
Snake plants can be harmful to cats if ingested. I will say that I have a snake plant sitting on the floor in my living room, and I have two cats. I haven't had any issues, but be sure to do your own research.
ZZ Plant
ZZ plants are another variety that do well with low or indirect sunlight. I have mine on my kitchen counter where there is not really any light at all and it's thriving. ZZ plants are a lot like snake plants and only need watered every 3-4 weeks. By the way, I just realized that I've been overwatering my ZZ plant. See, we are all learning something new here! ZZ plants make a fun alternative to snake plants because their leaves offer more dimension and character.
ZZ plants can be harmful to pets or kids if ingested. I recommend doing a bit of research before purchasing. I have not had any issues with my cats.
Pothos
Pothos plants are another variety that can thrive in any light condition. If you have a variegated pothos, meaning that there are white lines in the leaves, then your plant would prefer a brighter environment. Allow your pothos plant to completely dry out before watering. A good sign that it's time to water is when the leaves start to droop slightly.
Again, this variety can be harmful to cats, dogs or children if ingested. From everything that I've read, it will just make them ill, it's not fatal. Again, I recommend doing your research.
Phots image via Planterina.
Cast Iron Plant
Cast Iron plants truly live up to their name and are another top recommendation for a beginner houseplant. They are practically impossible to kill and thrive in low light conditions. Do not place your cast iron plant in a brightly lit room as it will fry the leaves. Cast iron plants are drought tolerant so be careful to not overwater. Let the soil dry before watering.
Image via The Spruce.
Chinese Evergreen
Chinese evergreen plants thrive in medium to low light conditions, but can survive in any light conditions. They're also one of the most common houseplants for beginners. Water your chinese evergreen once the top inch of your soil has become dry. Be careful to not overwater your plant.
Image via Petal & Stem
The Best Houseplants for Bright Light Conditions
Anthurium
Anthurium plants prefer medium to bright light conditions. However, they can grow in any light conditions, but plants placed in lower light conditions will produce less flowers. These plants need to be watered regularly, every 1-2 weeks, so that their soil is moist but not wet. I've had my anthurium for years and it is thriving.
Anthurium plants love humidity. If yours is not in a humid environment, just mist the leaves every once in a while, or keep them around other plants.
A bonus to anthurium plants is that they're a natural air purifier.
Image via The Sill
Philodendron
Philodendron plants thrive in medium to bright light, but they can survive in low light conditions. This makes them an ideal houseplant for beginners. These plants only need watered every 1-2 weeks, or when soil is completely dry. The beauty of philodendron plants is that they will show you exactly what they need. Just watch for the signs of over- or underwatering and you'll be fine.
Image via Planterina
Spider Plant
Spider plants prefer bright light, however they can survive in most medium light conditions. These plants need to be watered regularly, but allow the soil to dry before watering. Spider plants also love to have their leaves misted. They can survive in any humidity conditions but will thrive when the air is humid.
Image via The Spruce
Monstera
If you're looking for a bold, fun, tropical type plant for your home, the monstera plant is right for you. Monstera plants can tolerate any low to medium light conditions, but they thrive in bright, indirect sunlight. Water them every 1-2 weeks, once the soil has become dry. You will need to water more frequently if placed in bright light conditions.
Image via Pinterest
Ponytail Palm
Not only is the ponytail palm plant extremely pleasing to look at, it's also very easy to care for. Treat it as you would a succulent. The ponytail palm requires bright light, but only needs to be watered every 2-3 weeks. These make fun gifts too!
This plant is also pet friendly! If your cat is anything like ours, it will bring them hours of enjoyment.
Image via Petal & Stem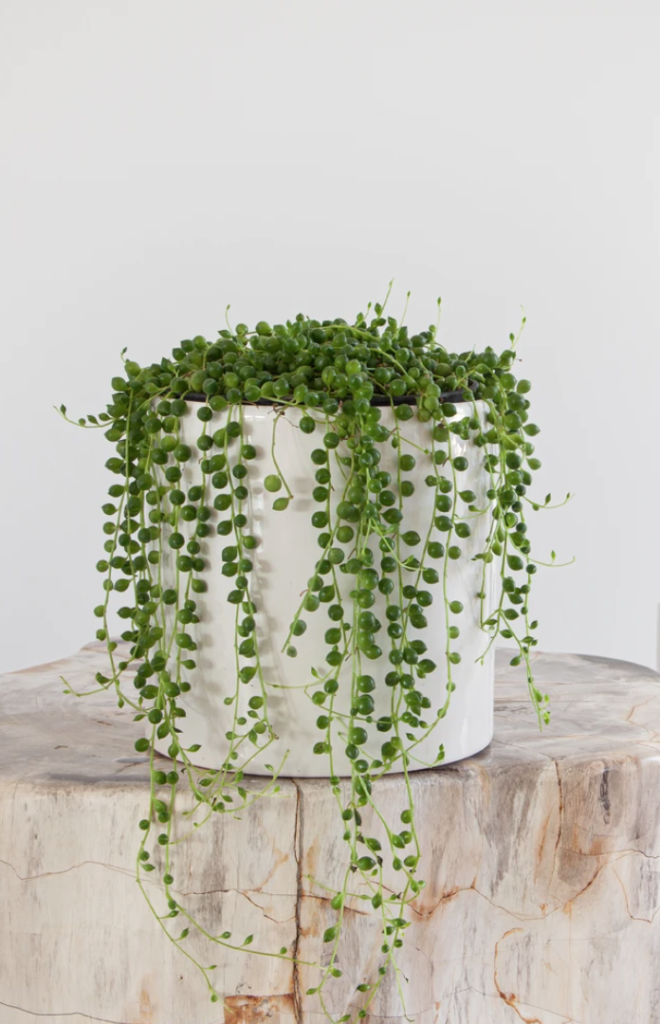 String of Pearls
I'm not sure which plant I think is more fun, the ponytail palm or string of pearls. This succulent variety has been everywhere this year, and it is extremely easy to see why. String of Pearls offers a unique element to your indoor houseplant collection. Place yours in a well-lit room or on a window sill for optimal light conditions. For best results, a string of pearls should be grown in a hanging basket with plenty of room to grow. When it comes to watering, treat this plant the same way you would any other succulent.
This succulent can be toxic if consumed by pets or children.
Image via Planterina
Jade Plant
Jade plants have been thought to be symbols of good luck and make great gifts for people moving into a new home, starting a new job or just a general gift. These plants need bright light to thrive. Water them every 1-2 weeks as the soil starts to dry.
Image via Terrain
Prayer Plant
Over the years of working with and for Michelle at Petal & Stem, prayer plants are always flying off the shelves. These houseplants have beautiful foliage and can survive in most light conditions, just avoid direct sunlight. Be sure to water them before the top layer of soil completely dries out. Prayer plants also like humidity so be sure to mist their leaves occasionally. The beauty of a prayer plant, besides its actual beauty, is that they are extremely resilient. Currently, I am bringing one back to life that I neglected. Never give up on them, they'll surprise you. I think that prayer plants make one of the best houseplants for beginners!
Image via Etsy
I hope that these plants will give you a bit of inspiration when purchasing your next, or first, houseplant. What houseplants do you have in your home? Do you have any that you've been wanting to get? (I think I need a Monstera!) What are your recommendations for the best houseplants for beginners? Let me know in the comments!
Do you want to see how I integrate houseplants into my home decor? Check them out on my living room shelves as well as my master bedroom mood board!
Pin this for later: