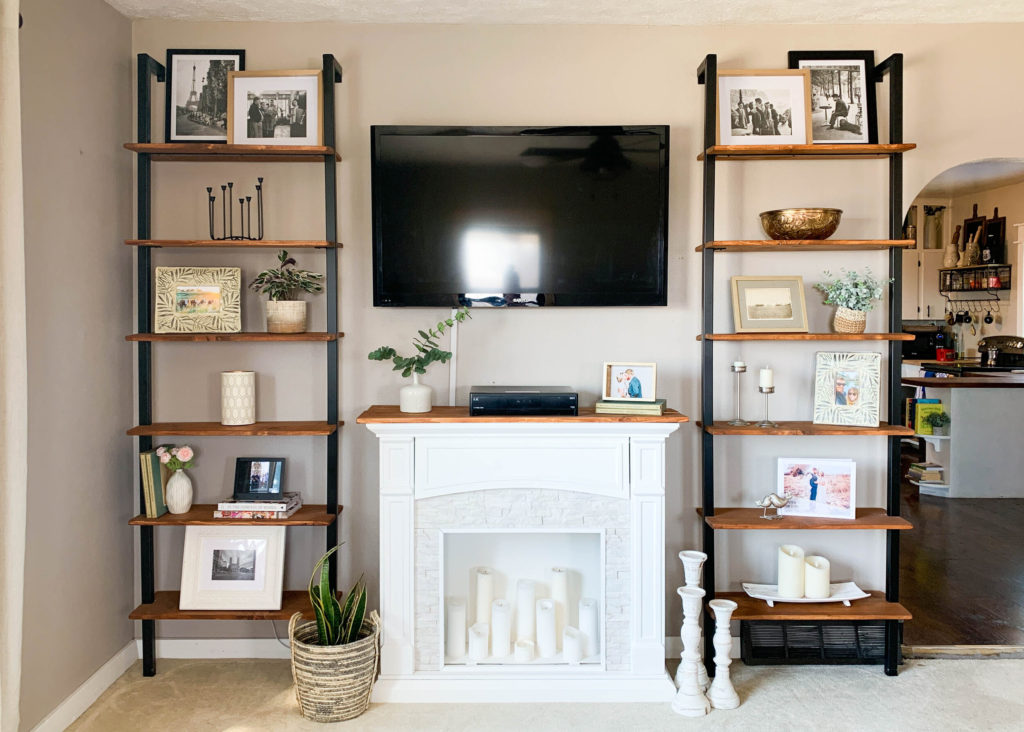 At the beginning of 2020, I decided it was time for an assessment of what I wanted my home to look like. Besides a few minor projects (painting rooms, tearing out old carpet, etc.), I haven't spent much time over the past few years making this house my home. To be honest, for the longest time I didn't feel like this was my home. For context, we live in Michael's grandparent's home so it's hard to start creating your own memories when everyone else sees it as someone else's home. I want to say here for anybody else in my shoes, it is hard when you move into a family home when it's not your family. My advice is to do the best you can and communicate at all times. But that is a story for another day, let's get back on topic.
(Go ahead and skip down a few paragraphs if you want to get straight to the details on How to Build Modern Farmhouse Shelves)
Our Version of a Modern Farmhouse
So Michael and I sat down and made a plan for everything that we wanted to accomplish for the inside of the house. This included updating all of the trim, a master bedroom remodel, painting windows, etc. Each room in the house is going to get some sort of facelift. I was finally ready to really let my personality shine through our home.
My thought process going into this home facelift was that I wanted to elevate what we already have. I wanted to build upon the foundation that was already laid and utilize the resources that we have available. This not only saves on expenses but creates the feeling of pride in knowing we did this ourselves. We created the home we wanted using the skills that we have and the knowledge we continue to gain. Most importantly, we are getting back to doing more with our hands, doing more creative projects, and being thankful for what we have. Essentially, I am trying to get rid of the "Keeping up with the Joneses" mentality.
The whole idea for our home facelift over the next year is to focus on the resources that are available to us here, utilize the work that we can do ourselves, and put our own spin on the inspiration we find elsewhere. But our ultimate goal is to remodel this house, add a liveable basement and really make it our own. We want to do that project right, so for now we are working on saving money for that.
Modern Farmhouse Shelves Inspiration
I knew that I wanted to add some shelving to our living room. These CB2 Helix living room shelves were the inspiration for our modern farmhouse shelves and the first thing that we did on our project list. By the way, I use the term "we" loosely. I stained the boards. Michael did everything else! I first came across this living room setup on Erin's Instagram page: @kismet_house. (Erin is a great follow for home decor inspiration and lame dad jokes!) But I came across two problems while looking into these shelves:
They were sold out at the time.
They were not in the budget!
Luckily I married a handy guy who is capable of custom building them for me. If you do not want to do the welding yourself, you could always take the dimensions to your local metal/welding shop and have them do it for you. I bet it would still be a fraction of the price of what you would pay if you bought these shelves from CB2.
Before we begin I want to note, Michael welded the metal pieces of this shelf, but you can easily attain a similar look using wood instead of metal. This is all about customizing to fit your needs and utilizing your skills and resources!
Now, let's get into how we did it.
---
Modern Farmhouse Living Room Shelves Instructions
Supplies
*Amount of supplies varies based upon your custom dimensions. Materials listed below were for 2 shelves.
26.5' of 1.5" square metal (steel) tube: We got ours locally at a metal dealer but Home Depot has some options. **Substitute wood here if you're not using metal.
30' of 1 x 12 pine wood boards: If I were to do this over, I would spend the money on better quality wood. Some of our shelves have already warped. Again, we purchased ours at our local lumber yard but Home depot has plenty of options.
15' of 1" strap iron: Michael cut a length of strap iron into 2" pieces so that we had something to screw the shelves into. He also drilled a hole in each piece to fit a screw. **If you're using wood, you can use L shaped corner brackets like these.
1 can of stain: Whichever color fits your living room theme. In true Dani fashion, I will be re-staining mine because once they were in the room, I realized they were too red.
---
We pulled the dimensions and layout for the CB2 Helix Living Room Shelves on CB2's website and Michael used that to figure how much supplies we would need.
Helix Shelves Directions
Measure, Cut, Drill
Measure wall space and decide the dimensions of your custom shelves. Our ceilings are 9' high so we made our shelves 8' tall.
Calculate the materials needed based on your custom measurements. You can skip this step if you are using the measurements we used.
Cut square metal tubing to 8' length & 7.5" length. Do this twice. (If you're making two shelves then you'll need to double this step.)
Cut 45 degrees off ends of 8' & 7.5" square metal tubing. Weld these pieces together at 90 degree angle.
Cut 1" strap iron into 2" pieces. We needed 20 pieces total, 8 for four of the shelves and 4 for mounting shelves to the wall.
Cut 1" strap iron into 27" pieces. We used these pieces to weld each bracket together. They also serve as the top and bottom shelf holders. You'll need 2 for each shelf unit, 4 total.
Drill holes in 2" pieces & 27" pieces for screws.
Weld, Paint, Assemble
Weld 2" strap iron pieces to 8' square tubing. Our shelves are spaced 14" apart. This is what your shelves will be screwed to.
Weld top and bottom 27" piece to each shelf bracket to hold brackets together. These are spaced 14" from the closest 2" piece previously welded.
Weld 1 2" strap iron piece to the other end of the 7.5" tubing from step 4. This is used to mount shelves to the wall.
Wipe down metal with paint thinner to remove any oil from metal.
Grind down any welds that don't look nice.
Paint metal shelf brackets with spray paint. We did two coats of spray paint to be sure that we didn't miss any spots.
Cut boards into 30" pieces. 6 for each shelf unit, 12 total.
Notch 1.5" x 1.5" sections in the middle of each side of boards. This is where the shelves will overlap the metal brackets.
Sand and stain shelves.
Attach shelf brackets to the wall.
Attach shelves to brackets
Enjoy your new "faux" CB2 Helix living room shelves!
A few notes after it's all said and done:
You will need to re-measure after each weld to double check that the welds are still lining up. We had a bit of leveling issue when it was done because once one weld is off, they're all off!
Don't weld on top of strap iron. This was something else we did and ended up having to router the boards so that they would sit flush with the pieces of metal.
Customize shelf dimensions to your own ceiling height/wall space. We went with the exact measurement of the CB2 shelves and didn't think about measuring the space where we wanted to put them. The end result looks great, but it could have been a massive mistake had the measurements not worked out.
Whew, that was a lot of information! I am beyond excited to share this DIY tutorial. Let me know if something doesn't make sense. Or if you have more questions.
What do you think of our version of modern farmhouse shelves? I would love to see how yours turn out if you do this, so let me know!
Pin this post for later:
---
Shop my shelf decor:
Are you reading my Current Obsessions? Check them out here!