Right before Christmas (2019) my friend Brandi and I were hanging out having a wine night when the brilliant idea came up that we should start a new comedy podcast. We both love to tell a good story and we find ourselves highly amusing! There's nothing better than laughing at your own jokes, am I right? As it goes with all good ideas sparked by a night of drinking, we decided to make it happen.
Brandi and I are both busy women, so we knew if we were going to do this we had to do it right. Months of preparation work went into starting a podcast. A lot more goes into a new comedy podcast other than buying some microphones and hitting record! But after a few months of learning the behind the scenes work, Press for Champagne was born!
Get to know us:
Meet Brandi!
Lawyer Lady & Co-Host of @pressforchampagnepodcast
Obsessions: Cleanliness, a sparkly outfit (extra obsessed if it's a jumpsuit or romper), independence, cheap Chinese food and being a self-proclaimed Taco Belle. I have an affinity for trap rap and a passion for wearing high heels, no matter how impractical they may be.
….
Deal breakers: Potlucks, cats (it's a phobia; look it up), roughing it (sharing isn't caring). All the germs (again, it's a phobia). One of my biggest fears, outside of cats, is marrying into a family that limits you to one carry-on bag.
….
Some may consider my tendency to overpack and eat giant bowls of pasta while laying in bed a deep character flaw, those are not my people. I'm a modern day Betty Crocker that will whip you up something delicious, but don't you get it twisted– I'm a real bossy bitch with the mouth of a sailor.
….
If Joan Rivers and Judge Judy could have had a baby together, it would be me. xoxo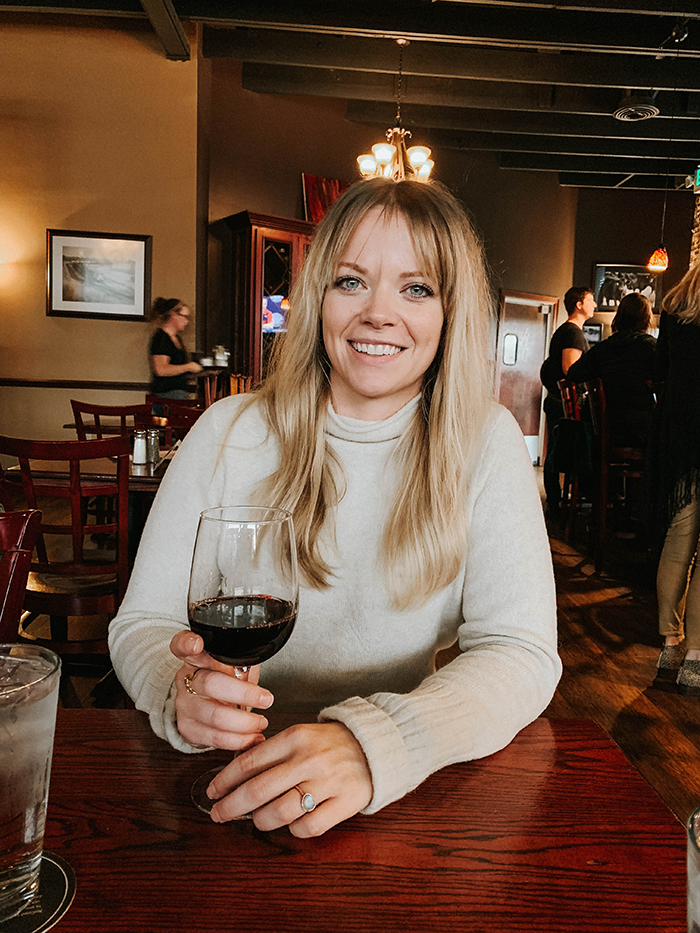 Meet Dani!
Founder of Culley Avenue, Professional Thrifter and Co-Host of @pressforchampagnepodcast

Obsessions: Wine so dry it sticks to your ribs, big hats (size DOES matter – the bigger the better IMO), a good beard, traveling and listening to myself talk. I'm a BIGGGGGGG Harry Potter fan! I've been called a food snob more than once, I prefer the term refined palate.
….
Deal breakers: I'm really not into being touched. Like, seriously. The color turquoise, giant f*cking centipedes and empty coffee pots. But really, my list of pet peeves is way too long for this post!
….
I learned all of my favorite curse words in the Marine Corps, and speak them fluently. I have no filter. Being hangry is a real problem, so if I bite your head off, I'm probably just hungry. Feed me.
….
I was switched at birth with one of the Rockefellers, and my expensive taste proves that! xx
What to expect from our new comedy podcast:
Honestly, expect the unexpected! Every week we discuss how life is an all you can eat shitshow, served with a side of champagne. Each episode we have a drink of the week, sometimes it's even themed to fit our discussion. You can find the recipes for these drinks on our website: pressforchampagnepodcast.com!
Nothing is sacred. We let you know how we really feel on each topic, all in the name of comedy! You can find us on iTunes & Spotify. We hope you'll love listening to us as much as we love talking! Be warned, this is not a PG podcast!
What are some of your favorite podcasts? I'm always in the market for something entertaining!
---
I'll go into how to start a podcast in the next few weeks. In the meantime, here is the equipment that we use.
Pin this for later: