The first time I laid my eyes on these Princely mules by Kurt Geiger London I knew that I wanted them on my feet. At the time, I was on the hunt for a pair of flats to slip into once the dance started at a wedding I would be attending. Specifically, I wanted a well-constructed flat that was polished and refined.
When I came across these shoes, it was love at first sight. I couldn't stop thinking about them, and that, my friends, is the sign that you really want something.
Something that you should know about me, I am extremely picky when it comes to my shoes. Honestly, I expect a lot from my shoes. Especially when I'm spending a lot of money on them.
For a little background on my expertise, I used to own a boot store. I spent years fitting thousands of people for the perfect boots and shoes that would fit their individual needs. Quality and fit are extremely important to me. With that being said, no two feet are the same. Even your own! So some of my cons may be pros for you and vice versa. 
To get into even more detail, this is my foot profile:
True Size: 8 Wide

I can fit into a medium width and most of the time I wear an 8 medium because not all brands provide a wide width.

My feet have high arches so I prefer shoes with an arch support.
I have a slight bunyan on each foot. (Sexy, I know!)
Something else to consider is that shoe sizes are not necessarily universal. You may wear an 8 in one brand and 8.5 in another. It's all about the fit, not the number on the shoe.
Kurt Geiger London Princely Pros
The overall design of the Kurt Geiger London princely mule is timeless. The silhouette is classic and the rhinestone strap elevates the shoe so that it can be worn for any occasion. The pointed toe and mule construction elongates your foot so that you don't get that frumpy look that can sometimes happen when wearing flats. Overall the shoe is gorgeous and the appearance alone is enough to get me to keep these shoes even if I hated everything else. Which, for the record, I don't!
As I briefly mentioned above, this flat is extremely versatile. You can easily wear this from day to night and look chic AF. My favorite way to wear my princely mule is with a pair of straight leg jeans and a casual top. It just creates this effortless look that every woman dreams of!
Now let's get into the shoe quality. Kurt Geiger London is a luxury british footwear brand so they are not cutting corners when it comes to supplies. The princely flat is made of genuine leather and feels buttery soft to the touch. The rhinestones that adorn the strap don't have that cheap look and they are secured nicely. 
Kurt Geiger London Princely Cons
It's hard to say something bad about such a beautiful shoe, but you know I'm not going to sugarcoat things. When something isn't right, I'll tell you! Let's talk about the comfort of the Kurt Geiger London princely flats. To be honest, it's not great. I think everyone likes their shoes to fit a certain way and, for me, I prefer some arch support. This shoe has none. The best way to describe the comfort is that it is your standard flat.
The next thing that I want to note is that the walkability is a little weird. Because of the fit, which I'll get into here in a second, it's almost like you have to try a little harder than normal to keep the shoe on. It's not overly cumbersome, but just enough that it needed to be said. 
Ok, the fit is where I have the most issues with the princely flat. I read a ton of reviews on Nordstrom before I purchased these shoes and almost every one of them recommended that you size up ½ a size. For length purposes, this is a must. I did and I am right on the edge so I almost recommend sizing up 1 whole size just for length. But this is where it gets tricky because the toe box is kind of wide, and I have a wide foot so you would think that this would be ok with me. And normally it's what I prefer, but the real kicker that would fix all of these problems is if the strap that crosses that top of your foot would fit more snug.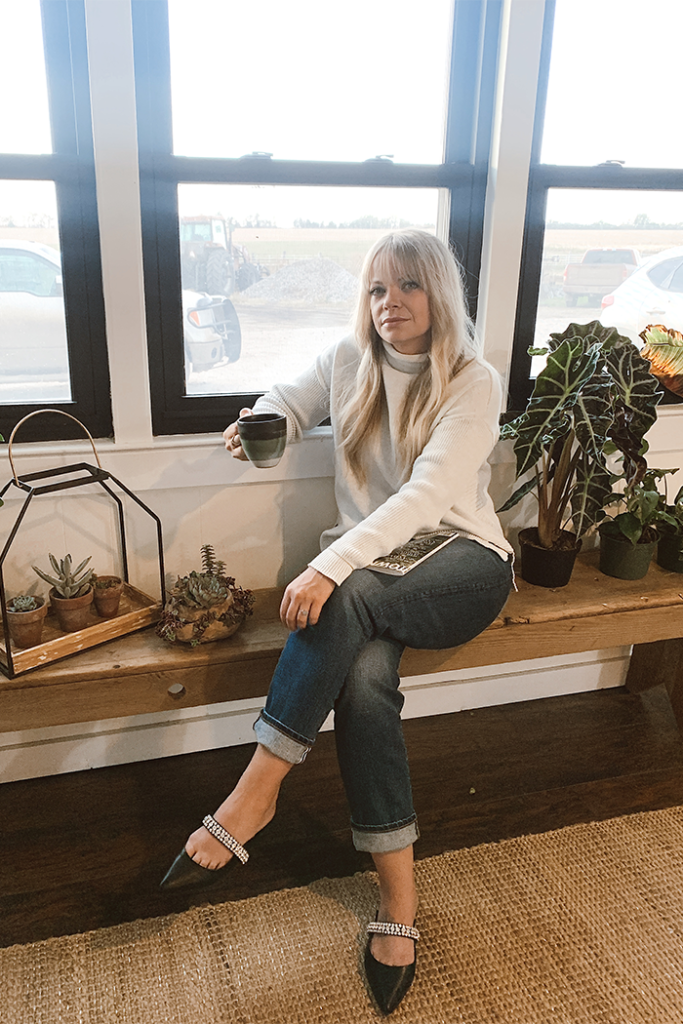 Overall Thoughts & Rating
Because I truly love these shoes and the way that they look, I will be taking them to a cobbler to tighten the strap and hopefully that will solve most of my problems. (By the way, no garment or shoe is going to be made perfectly for every person. Don't be afraid to have something altered to your specifications!)
For me, the design and quality are amazing. I know that these are shoes that I will have forever. Hopefully the fit issues will be resolved after having the strap tightened.
Overall score: 7/10
Have you tried the Kurt Geiger Princely mules? What did you think?
As I get older, I truly see the importance of buying quality instead of quantity. If that is something you're interested in, check out this post on sustainable fashion. I'd love to hear your thoughts!