Updated Review 01/2023: After owning these shoes for over two years and wearing them to many events, here is a more accurate review! 
The first time I laid my eyes on these Kurt Geiger Princely mules I knew that I wanted them on my feet. At the time, I was on the hunt for a pair of flats to slip into once the dance started at a wedding I would be attending. Specifically, I wanted a well-constructed flat that was polished and refined, but that made my legs look great as well.
When I came across these shoes, it was love at first sight. I couldn't stop thinking about them, and that, my friends, is the sign that you really want something.
Something that you should know about me, I am extremely picky when it comes to my shoes. Honestly, I expect a lot from my shoes. Especially when I'm spending a lot of money on them.
Let me just say this for the cheap seats, do not skimp on your shoes! Your feet are the two appendages that carry you through life. Trying to shove your foot into something that is ill-fitting and/or poor quality and then wondering why your feet/knees/back always hurt is something I will never understand.
For a little background on my expertise, I used to own a boot store. I spent years fitting thousands of people for the perfect boots and shoes that would fit their individual needs. Quality and fit are extremely important to me. With that being said, no two feet are the same. Even your own! So some of my cons may be pros for you and vice versa. 
You can check out more of my beauty + style posts here!
To get into even more detail, this is my foot profile:
True Size: 8 Wide

I can fit into a medium width and most of the time I wear an 8 medium because not all brands provide a wide width.

My feet have high arches so I prefer shoes with arch support.
I have a slight bunyan on each foot. (Sexy, I know!)
Something else to consider is that shoe sizes are not necessarily universal. You may wear an 8 in one brand and an 8.5 in another. It's all about the fit, not the number on the shoe.
Outfit details: Old Z Supply Dress (Similar), Similar Headband | Old Zara Dress (Similar) | Ronny Kobo Dress
Kurt Geiger London Princely Pros
Princely Mule Design
The overall design of the Kurt Geiger London princely mule is timeless. The silhouette is classic and the rhinestone strap elevates the shoe so that it can be worn for any occasion. The pointed toe and mule construction elongates your foot so that you don't get that frumpy look that can sometimes happen when wearing flats. Overall the shoe is gorgeous and the appearance alone is enough to get me to keep these shoes even if I hated everything else. Which, for the record, I don't!
As I briefly mentioned above, this flat is extremely versatile. You can easily wear this from day to night and look chic AF. My favorite way to wear my princely mule is with a pair of straight-leg jeans and a casual top. It just creates this effortless look that every woman dreams of!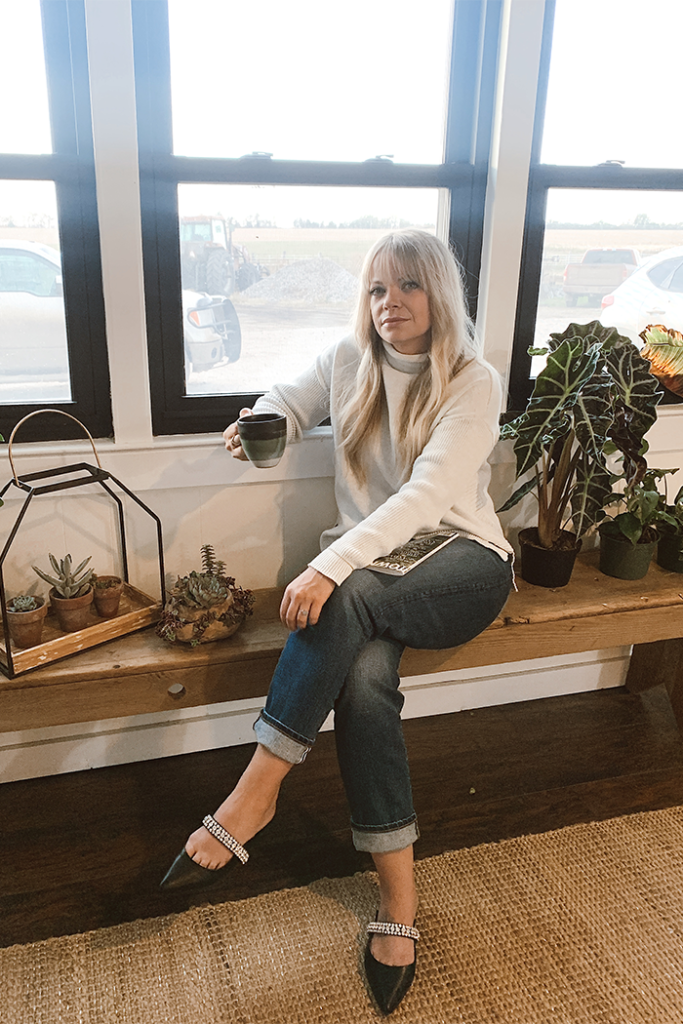 Outfit Details: Old Madewell Jeans (Similar), Old Tahari Sweater (Similar)
Princely Mule Quality
Now let's get into the shoe quality. Kurt Geiger London is a luxury British footwear brand so they are not cutting corners when it comes to supplies. The princely flat is made of genuine leather and feels buttery soft to the touch. The rhinestones that adorn the strap do not have that cheap look and they are secured nicely. 
Princely Mule Comfort
In my original review (when I hadn't worn these shoes for an occasion yet, just around my house) I wasn't a fan of the comfort. I thought the arch support, or lack thereof, was going to be a problem for me because I have high arches. After wearing the Kurt Geiger Princely mules to multiple events where I was on my feet for hours, my tune has changed! These shoes are surprisingly comfortable!
Now let's be realistic when I say they're comfortable. I'm not talking about the comfort of your favorite sneakers or slippers. They are comfortable for a standard flat shoe that won't have your feet crying by the end of the night. I could wear these all day and night and be just fine.
Kurt Geiger London Princely Cons
First off, I want to say that my con list really just didn't quite make the cut to be on the pro list. Because these are such minuscule cons. Honestly, you can't have a review without having at least one gripe, right?
Princely Mule Walkability
So let's talk about the initial walkability of this shoe. It takes a little getting used to. Because of the fit, which I'll get into here in a second, and the quality structure of the shoe, it does take some breaking in to be able to walk normally. But that period of time isn't very long. For the first event I wore these shoes to, I don't remember having an issue keeping up or walking funny.
I recommend wearing them around the house to get used to them. Keep in mind that wearing them on the carpet is drastically different than wearing them outside.
Princely Mule Fit
Ok, the fit is where I have the most issues with the princely flat. Mainly because all feet are not created equally. I read a ton of reviews on Nordstrom before I purchased these shoes and almost every one of them recommended that you size up ½ a size. For length purposes, this is a must. I did and my heel was right on the edge initially. But leather stretches and now they fit great for length.
It does get a little tricky when sizing up because the toe box is kind of wide. I have a wide foot so this actually was to my benefit, but if you have a narrow foot you will want to try these on in a store first.
One thing that I wish was different, and that I think would alleviate some of the fit issues, was if the strap across the shoe were a little tighter. This would help with walkability too.
Overall Thoughts & Rating
For me, the design, quality, and comfort are amazing. I know that these are shoes that I will have forever. They can be dressed up or dressed down. Let's be honest, you will always be the best dressed in these shoes. Every time I wear them I get so many compliments.
They are worth the money!
Overall score: 9/10
Have you tried the Kurt Geiger Princely mules? What did you think?